McMillen's Auger Drives feature a wide variety of auger diameters, lengths and style for every digging application. The hydraulic motor drives the auger through a sealed planetary gear reduction. The heavy duty all gear design gives these units a long life with minimal maintenance and service costs. 75 Series drive units are completely sealed with all moving components running in oil for total lubrication on a constant basis. All models feature reverse rotation for quick bakout when obstructions are encountered. The systems' hydraulic relief valve protects the units from damage when the auger kits large immovable objects. We offer 12", 18", 24" and 34"auger bits.
General Equipment towable auger is a hydraulic auger which also has a reverse. This unit easily tows to the jobsite at conventional highway speeds. You can auger 6", 8" 10" or 12" holes in diameter in the toughest soil conditions. High capacity hydraulic system is designed for maximum heat rejection without the use of an auxiliary cooler.
The Comfort-Flex® composite operator handles flex under load to help absorb vibration and schock. Increased safety in the event of contact with an underground utility line. Heat-treated spur gears are precision machine-cut, deliver unequated torque and horsepower. All-metal centrifugal clutch, oil-cooled to extend life, slips on overload or sudden contact with buried obstructions. Magura twist grip throttle control. We offer 6", 8, 10" and 12" bits for this machine.
The 240H Hole Digger is the first professional-series, one-man, hand-held gasoline-powered auger to feature an all position, 4 Stroke engine. The 240H is built with professional features that make it ideal both contractors and homeowners alike. Performance to dig up to an 8 inch diameter hole in a variety of soil classifications. The unique Comfort-Zone™ operator handle design helps maximize operator strength while reducing the effects of kickback and body fatigue.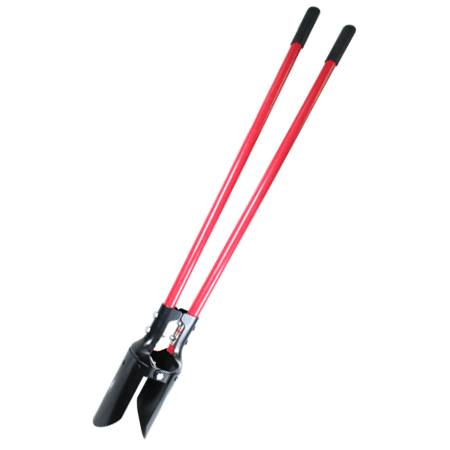 We also offer manual post hole augers